Houblonde is brewed with dynamised water!
In concrete terms, this means that it has been regenerated by passing through a vortex. This generates a vortex in the water to give it kinetic energy. This is supplemented by a magnetic field and natural mineral frequencies.
Biomimicry
The Biodynamizer reproduces the natural water cycle in a concentrated way. It imparts to water movements similar to those it follows in nature and communicates the properties that it stores during its natural journey.
The result? The Houblonde brewery water thus regains a quality comparable to that of water that springs naturally from its source, i.e. structured water filled with photonic energy (energy value in the electron/photon sense captured by an electrophotonic camera, principle of the corona or Kirlian effect)!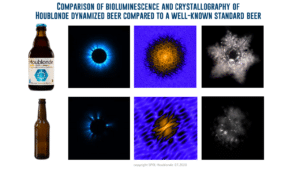 Moreover, the dynamized water transfers its taste and smell to the beer! This can be seen in the fine, velvety sweetness of its taste, its refreshing aspect that remains in the mouth for a long time, its sparkle and its creamy, smooth head.
Developed at UCL
At the Laboratory of Brewing Sciences and Technologies of the Catholic University of Leuven (UCL) in Belgium, experts compared the taste effects of water dynamisation on two identically brewed beers. One with dynamized water, the other without.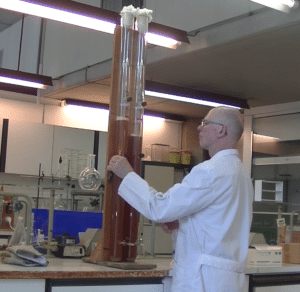 The result? 5 expert tasters (brewing professors from UCL and master brewers) came to the same conclusion: "The water-dynamized beer seems clearer, finer, softer, lighter, more refreshing and thirst-quenching, more sparkling and with less aftertaste than the non-water-dynamised beer"
Want to know more? Discover all the experiments, scientific and empirical analyses that lift part of the veil on the true nature of dynamised water on www.biodynamizer.com
All the power of nature
to enhance the taste!